If you drive a late-model vehicle, you know how expensive new keys can be. Getting a spare or replacement from the dealer can set you back hundreds of dollars! If you're looking for a more affordable way to replace a chip key or fob, give a call. We're an accomplished car key maker, proudly serving drivers in Lawton, OK with a more affordable alternative to vehicle keys than factory-direct or dealership replacements.
Not only can we provide you with a key fob replacement, we can cut and/or program just about any other type of vehicle key you might need. No matter what kind of key you need from us, we'll make sure you get it, fast.
---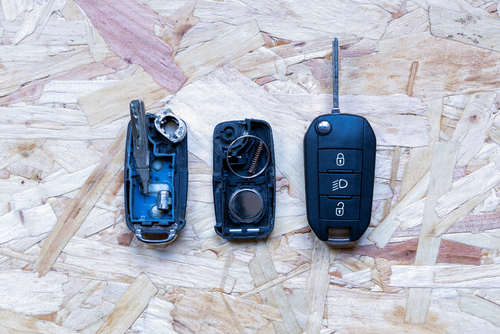 Key fob replacement.

For keyless entry vehicles, a working fob is essential. If yours isn't working or you need a replacement, give us a call. We'll program a fob that works specifically with your vehicle, to ensure you have access on-demand and the ability to start your car when the fob is in proximity. 

Chip key replacement.

Chip keys link with the vehicle they're programmed for, for an added layer of security. We can duplicate chip keys and ensure they work flawlessly with your vehicle, no matter the make or model you're driving. Expect a key that works as well as the dealer-direct original.

New car key cutting.

Have an older vehicle that still utilizes a regular key? We can cut keys for various makes and models, to ensure you've got a spare or a replacement—even for models that might not be current anymore. 
---
We can also provide minor repairs to your vehicles lock and key systems where needed. Jeff's Key & Safe Shop is your all-in-one car key maker in Lawton, OK, ready to get you back in the driver's seat with a key that works flawlessly. Give us a call today at 580-353-8176 to get a replacement or a spare for your vehicle, no matter what you're driving.
Contact us today for a free estimate on locksmith services. Reach our friendly experts at 580-353-8176.